"When we say Iranian music, they immediately think that it is a row music, the best thing is to say Iranian music. That is, the music of Lorestan, Kurdistan, Baluchistan, Fars and everywhere is there, there is also the music of Radif. I'm not so inspired by row music that I'm inspired by local music… Most of the motifs are in the same area music, most of the rhythms are there. In the row, there are no rhythms that we have in Khorasan or Kurdish music, for example; "So we say use Iranian music, of which Radif is a part."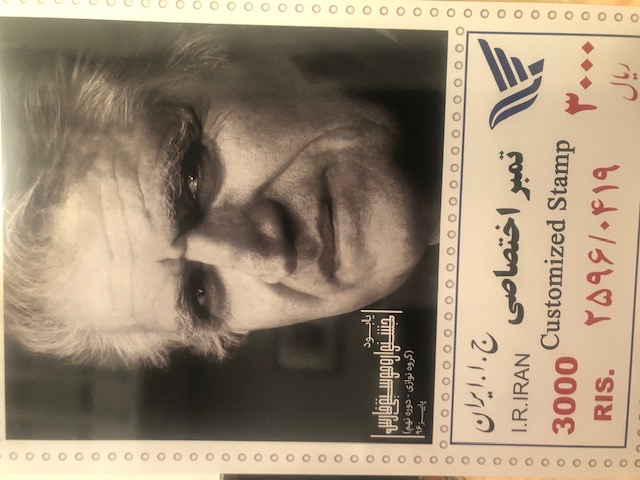 Ahmad Pejman ( Persian : احمد پژمان ; born 1935), also spelled as Ahmad Pezhman , is an Iranian classical composer who resides in the United States. Pejman is notable for his operatic and symphonic works.

Before graduating from the Academy, he was commissioned to write the first Persian Opera,
Rustic Festival, for the opening of the Tehran Opera house, Rudaki Hall.
Upon completion of his studies, Pejman returned to Iran and soon became one the most prolific and prominent composers of his time. Combining his Western Classical music mastery with traditional Iranian music and instruments, he became a significant force in the classical Iranian music scene. His compositions for the symphony orchestras, ballets, operas, chamber music, oratorios, and film music span over an impressive 60-year career. His works have been performed nationally and internationally, including in the United States, Canada, Austria, Czechoslovakia, South Africa, Belgium, and the United Kingdom. Pejman is a winner of numerous national and international awards and was named the most important composer of the century by the House of Cinema in Iran. A commemorative stamp was issued in Pejman's honor in 2017.

Born in 1935 in Lar, Iran , Pejman was exposed to the sounds and rhythms of southern Iran from early childhood. In high school he started violin lessons with Heshmat Sanjari and music theory with Hossein Nassehi .
As a young violinist with the Tehran Symphony Orchestra , he was awarded a scholarship to study composition at the Music Academy in Vienna . He studied composition with Thomas Christian David , Alfred Uhl , and Hans Jelineck , Friedrich Cerha As a first year student at the Academy, Pejman's compositions were performed by the Vienna Chamber Orchestra and his orchestral work Rhapsody was performed by the Vienna Radio Symphony Orchestra . In his third year as a student, he was commissioned to write the first Persian Opera Rustic Festival for the opening of the Tehran Opera house , Rudaki Hall . Upon graduation from the Academy of Music in Vienna, Pejman returned to Iran in 1968, where he was commissioned to write the opera Hero of Sahand ( Delāvar-e-Sahand ) which was based on legendary Persian hero Babak Khorramdin . The opera was premiered at Roudaki Hall in 1968. Between 1969 and 1978, Pejman continued to compose symphonic works, operas, ballets, and also wrote many scores for motion pictures and television programs.
In 1976, three years before the Iranian revolution, Pejman moved to New York, where he entered Columbia University 's Doctorate of Music program in New York and continued his studies with Buelant Arel , Vladimir Ushachevsky and Jack Beeson .
In 1984, Pejman moved to Los Angeles and continued to compose and arrange music for jazz and pop ensembles, and motion pictures Threat, 1985 .
In 1992, Pejman was commissioned to write a cantata for choir and orchestra for the liberation of Khorramshahr Beh Yade Khorramshahr, 1992 . He was then commissioned to write music for a musical theater to be performed at Vahdat Hall (previously called Rudaki) Mokhtar, 1993 . Since 1993 Pejman has been writing film music and composing for the orchestra and choir and released various soundtracks and CDs.
Pejman has written orchestral works, operas, film scores, ballet pieces, and popular music.
Concerto for nine instruments 1964 (Student at Music Academy in Vienna)
Rhapsody for orchestra 1965 (Student at Music Academy in Vienna)
Sonata for viola and piano (1966) (Student at Music Academy in Vienna)
Parsian Overture (1966) (Student at Music Academy in Vienna)
Rustic Festival, Opera in one act for the opening of Rudaki Opera house,1967
The Hero of Sahand, Opera in 2 acts, 1968
The Illumination, Ballet, 1969
Samandar, Opera in three acts, 1970
Baba Barfi, Children Music, 1971
Gol Omad, Bahar Omad, Children Music, 1971
Music for Poems of Nima Youshij, recited by Ahmad Shamlou, 1972
Chamber Music for Santoor and Tombak, 1972
Ballet-Impressions, 1973
Ayyaran, Ballet for Persian Instruments, 1974
Symphonic Sketches, 1975
Hemmaseh, Ballet (performed by Manchester Ballet Company 1976
3 Pieces for Jazz Ensemble 1980
Music Arrangement and Pop compositions 1988-1991
Khorramshahr, Cantata for soloist, chorus and orchestra 1992
Mokhtar, Musical Theater 1993
Seven Hurdles of Rostam, Ballet 1996
Resurrection, Oratorio Mosfilm Orchestra Moscow Academy Choir 2007
Sohrab, Music for Soloist, Choir and Orchestra (on Sohrab Sepehri poems 2009
Shadows of the Sun 2010 (to be released on Hermes Records 2010)
Norooz Symphony in 5 movements 2011
Divertimento in 4 movements for String Orchestra 2016
Parsava - 5 movements for solo piano 2016
Sarzamin Delavaran (Land of the Brave) 2017
"Resurrection concert" or "A Persian Night with Vancouver Opera Orchestra featuring Vancouver Bach Choir was held at Orpheum theatre in Vancouver on January 20, 2019 to pay tribute to Ahmad Pejman. The creator director and producer of the concert was Mohammad Fazlali. For the very first time in Canada, 150 Professional musicians graced the magnificent Orpheum Theatre to perform masterpieces by renowned Iranian composers on the Persian Night concert. Three movemnts of Symphonic Poem "Sudden Resurrection" composed by Ahmad Pejman were performed in this concert, conducted by Leslie Dala. This concert was World live premier of "Sudden Resurrection". Ahmad Pejman was present in the concert. Pieces from other Iranian composers; Loris Tjeknavorian, Hooshang Kamkar, Homayoun Khorram, Gholamhossein Minbashian, Fardin Khalatbari, Mahyar Alizadeh, Ramin Jamalpour, Saman Samimi were in the repertoire of the concert as well. Alireza Ghorbani and Talin Ohanian were Vocalists in this concert.